The Color Guard is a part of the Pride of Bixby marching band and music program. This ensemble is comprised of marching band members who add visual impact and color to the musical performance in a challenging activity that combines equipment work with dancing and marching. By using flags, sabers, rifles, swing flags, and other pieces of equipment pertaining to the music, as well as a mix of ballet, jazz, modern, and contemporary modern dance, the color guard interprets the music into a stunning visual element.
The Bixby Bands Color Guard at Bixby High School is composed of hard-working, talented, and dedicated students from ninth through twelfth grade. The Color Guard is open to all students at BHS. There is no prerequisite to the audition but students must be physically able to perform dance moves and handle various equipment.
The Bixby Bands Winter Guard is a group of talented students who practice and perform during the winter and spring. The Winter Guard team rehearses for various competitions and performances. Winterguard is similar to Color Guard, where members dance with props such as flags, rifles, and sabers.
For info about Bixby Guard please contact – Caitlyn Fowler, Colorguard and Winter Guard Choreographer and Designer by email: [email protected].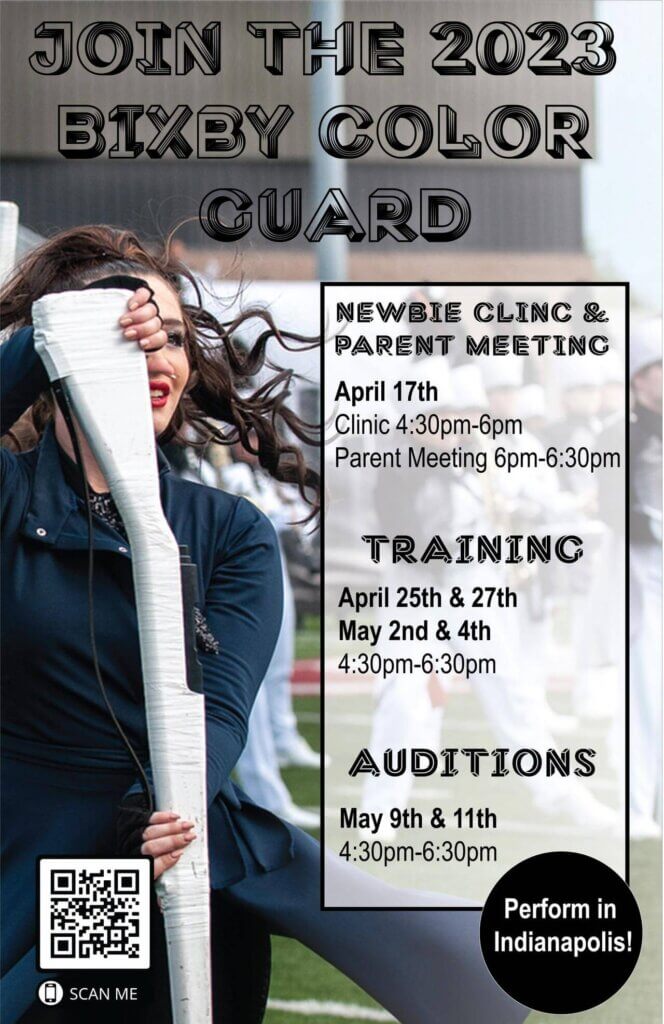 2023-24 Color Guard Info & Auditions
Please fill out the linked form (below) if you are interested in attending the Bixby Color Guard auditions. The newbie clinic and parent meeting will be April 17th. Clinic 4:30-6:00 pm, parent meeting 6:00-6:30 pm. Located at the Bixby High School Band Center. Wear athletic clothing. If you have any questions, please email [email protected]