2018 Pride of Bixby Show Trailer
---
You Tube
---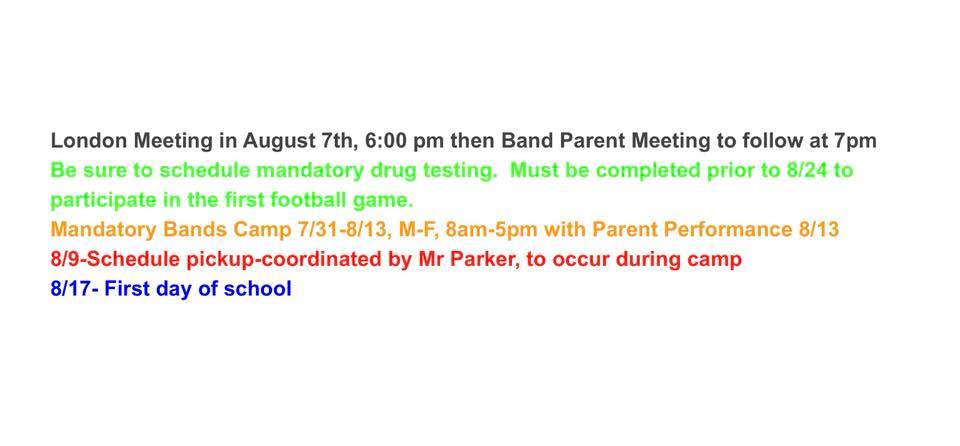 Bixby Band Camp Reminder
* All students who are members of Bixby Bands and their parents /guardians responsible for accounts please create a CUTTIME account ASAP. CHARMS will no longer be available after June 6th. Visit our CutTime link and follow the instructions. Click here for CUTTIME  
*Color Guard , Percussion : Drumline ( Front Ensemble and Battery ), Leadership Please check the BIXBY BAND CALENDAR located on this site for further Summer Schedule Information (make sure to view the details on the calendar).
*REMINDER All Parents and Students Volunteering or Traveling to London please make sure and complete BEST Training, Obtain both Parent and Student Passports for London. Sign up for Fittings and Drug Testing and HYDRATE.
---
Update from Mr. Parker 6-15-18…..Pride of Bixby Summer Activities
I hope your summer is off to a great start. I wanted to send you this email to touch base on some activities that are coming up this summer. Please email me should you have any questions Jeremyparker@Bixbyps.org
Pride of Bixby "Thursdays in July":
We will have voluntary rehearsals the following Three Thursdays. This applies to all incoming 9-12 Woodwind and Brass Students that are participating in the HS Band next year. You are expected to be at these rehearsals if you are in town…..please make arrangements with work schedules. I know that some students will be at camps or scheduled vacations…..that is fine. This is where students will be issued school instruments and some music for the season. We will spend time outside so please bring water, sunscreen, sunglasses and proper footwear.
-Thursday,July 5, 19, 26@ the BBC 8:00am-12:00pm
-Percussion and Guard students are on a different summer schedule and should consult the Band Calendar located at Bixbybands.com
Pride of Bixby Leadership Day:
This is a special work day for the leadership of the Pride of Bixby 2018 season. This includes all Drum Majors, Captains, Lieutenants, and members of the Library and Uniform Staff. (Percussion begins their full rehearsals this day as well)
Pride of Bixby FULL BAND CAMP:
Camp startsJuly31st and runs every weekday until August 13th…..culminating with a big community performance the evening of Aug 13th.
-This is mandatory for every member of the Pride of Bixby (Brass, Woodwind, Guard, and Percussion)
-The times for the camp are 8:00am-5:00pm
-We will have an hour lunch break 11:30-12:30 each day…..Students are expected to bring a lunch (Students will not be permitted to drive to lunch)
-The Band Parent Organization also provides cold water for refills of their water jugs and fresh fruit at each summer rehearsal.
-More details(What to bring etc) are provided in the description section on the calendar located at BixbyBands.com
-THIS IS MANDATORY!!!!
Students missing any part of the Full Band Camp will not be granted their own spot on the field and will automatically share a spot on the field with another musician……regardless of age or skill level.
Please use our website as your first effort to find information regarding the Bixby Bands. Also please let us know if there are any questions not addressed on the site and we will rectify it ASAP.
See You Soon
Mr. Parker
Jeremyparker@bixbyps.org
Bixbybands.com
---