London New Years Day Parade Gallery
---
London New Years Day Parade and Concert Series
The Pride of Bixby, by invitation only stepped out on the international stage January 1st 2019 in London, England for the London New Years Day Parade. The Pride also performed at the LNYDP Preshow at Trafalgar Square and BBC ONE "Breakfast" New Years Day Morning. The Bixby Wind Ensemble also preformed at Cadogan Hall on Dec 30th for the LNYDP Concert Series Over 500 TV stations  broadcasted the parade with live coverage to an audience of over 600 million and 650,000 spectators lining the streets of London.  Please visit  @BixbyBands on facebook for posts about the event. The Pride of Bixby is an incredible group of young musicians and talented directors from Bixby High School and our beloved City of Bixby, Oklahoma that  journied to celebrate the New Year in London, England with LNYDP.
Important London Links, Info and Media Connections: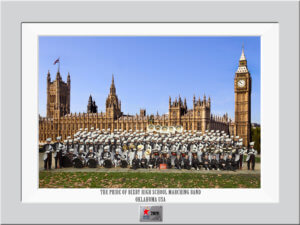 Lnydp Group Photo  ( Open link then right click to save)
If you would like to access professional photos taken during the LNYDP Concert Series and LNYDP 2019, they can be accessed via our Flickr account https://www.flickr.com/photos/londonparade/albums We currently have a limited selection of photos available and later this month we will be publishing more of each performance group.
If you would like to download a complimentary video of LNYDP 2019 in its entirety, please click on the following link (video also aviable on this page to view); https://vimeo.com/309456789
We also have video footage of your concert in full, please click on the link (video also aviable on this page to view);
The LNYDP Concert Series on the 30th December 2018 at Cadogan Hall https://youtu.be/VSpcAq9MFVc 
London Video Gallery
More London videos to be added as they become available. . .
The Pride of Bixby Marching Band preforming in the 2019 London New Years Day Parade!! Happy New Year!! Lnydp #lnydp #BixbyPublicSchools Bixby Public Schools

Posted by Bixby Bands on Tuesday, January 1, 2019